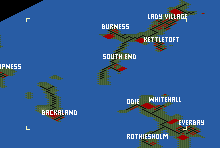 Orkney
Author: Owen Rudge (Search for other games by Owen Rudge)Date Added: 2001-03-25
Game Date: 1959
Cash: £100,000
Game Type: Scenario
Vehicles: N/A
No. Competitors: 0
Average Rating: Good (4)
Found on site: Owen's Transport Tycoon Station
Description:
I have created a fairly accurate scenario of where I live, the Orkney Islands in the North of Scotland. It's quite challenging because of all the water. Download it and give it a go! If you play it, please e-mail me and tell me what you think! I'd also quite like to receive saved games of this scenario.
Click here to download Orkney (33KB).
---
Comments
---
---
---
---
---
---
---
---
---
---
Rate this game
Adding new comments is currently disabled due to spam.